Our Environmental Commitment
So why be green? What does it mean for you?
Green Cleaning started out as something of a novelty, something where you could do your little bit (if you wanted to). This has changed, today itís not a case of should we, now we must all be doing our utmost to reduce our impact on the environment. Being a "Green Carpet Cleaning Company" means a whole change in the way we run our business, from the little things like turning the lights out in a room as you leave that room to the overall method and timing of cleaning carpet and other soft furnishings, it all must to be sustainable.

We are currently Bronze members of Symmetry Sustainable Business (SSB). SSB is a unique sustainability enhancement program designed to improve environmental practices of small businesses. It's a project of the Centre of Excellence in Sustainability, dedicated to 'best practice' in sustainability and sponsored jointly by Macarthur Regional Organisation of Councils (MACROC), the University of Western Sydney (UWS) and Macarthur Centre for Sustainable Living (MCSL). Basically for us it means the opportunity to measure where we currently are and how we can improve.
Cleaning Solutions
Cleaning solutions are selected not only because they will be effective but also on how they might affect the environment. We always use the practice of using only what is required, you wouldnít use a sledge hammer to drive in a thumb tack would you?
No Phosphates, Sulphates, Petroleum solvents or Benzene detergents are used by FFCC as part of our general carpet cleaning processes.
Pre-sprays must be highly bio-degradable and non residual.
All cleaning solutions are sourced from local suppliers from in and around Sydney, it simply isnít necessary to bring chemicals in from overseas or interstate.
Low Moisture Cleaning Systems
By using cleaning methods such as our Low Moisture System we can save as much as 80 litres of water usage per 100 square metres of carpet cleaned. It also uses approximately 25% less power than "normal" Hot Water Extraction processes.
All soiling is removed from your carpet via micro-fibre pads and then removed from site. We donít empty the waste down your drain
As part of this same Low Moisture Cleaning System we have found that cleaning frequency requirements are cut by more than half. In one instance cleaning frequencies went from every 2 months to 6 monthly.
Because our carpet cleaning machinery is super quiet and drying times are so fast, cleaning can happen during office hours (if safety allows) or just prior. This reduces the need to run lighting and HVAC systems out of hours. This reduces your carbon foot print as well as saving you money.
There are no sticky residues to cause resoiling.
Green Buildings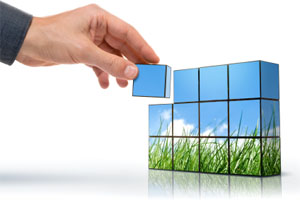 The achievements that have been made over the last ten years within the building industry have been phenomenal, to say the least. The Green Building Council of Australia along with other interested parties have done a great job. The problem remains however, once these state of the art buildings have been completed little thought is given to the ongoing sustainable cleaning and maintenance practices. Facility managers are often bombarded with a mountain of information on the best cleaning practices for their carpets and soft furnishings, all at a high cost. The truth is "Green Cleaning" need not be more expensive at all. Itís simply a matter of doing things smarter, changing things, like the time of day cleaning is done and using the natural light of day or perhaps ensuring that the cleaning solutions you're using are not only completely safe and biodegradable but making sure that they come from local suppliers and not half way across the world.
We at FFCC are leading the industry in caring for your carpet, soft furnishings and our environment. Remember it has to make sense and it has to be real! There is no point in having a carpet cleaning maintenance program that doesnít work properly. Obviously a serious consideration is making the carpet last longer, after all, that keeps it out of land fill. We are constantly minimizing our impact on the environment by always looking for the safest most effective ways to clean and maintain carpet.
Entrance Matting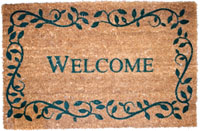 We advise on the most effective forms of entrance matting that will trap soiling before it gets into the building.
Preventing soiling from entering the building is the most effective and environmentally responsible first step in any maintenance program.
Commitment to Carpet Reuse
FFCC is committed to carpet reuse through Ontera Modular Carpets Earthplus Program. We were selected by Ontera to sort and "Super Clean" the carpet for their reuse program. To date we have assisted in diverting 68,000 square metres of used carpet from land fill.